Since its first inception, the Company has been fully committed to providing the best products and services. The Company continues to grow into a reputable property developer engaging in the business of property development, management and investment. As one of the major players in property industry, the Company consistently shows excellent performance amidst the increasingly dynamical environment.
The Company's portfolio covers the development of mixed-use and high-rise buildings, middle to high-end residential estates, townships, industrial estate and investment properties in the Greater Jakarta area (Jakarta, Bogor, Depok, Tangerang and Bekasi), Batang, Central Java, and  as well as Surabaya and its surrounding areas. The Company has diversified its business as well by penetrating into management of golf course as well as sports facilities in several cities in Indonesia.
The Company steadfastly adheres to the four pillars of company's management, namely organic growth, acquisition, joint ventures, and capital and investment management. This aims to maintain sound growth of the Company amidst the increasingly dynamical and competitive environment. The four pillars of growth are a combination of the Company's vast experience in real estate development, property management and investment, relentless innovations and strategic business planning. Moreover, in line with the green movement and green building construction permeating in property sector about a decade ago, the Company always incorporates environmental aspects into all of its property projects in addition to the implementation of green building principles in the previous projects.
Analysis on Income Statements
Income Statements Charts
| | | | | |
| --- | --- | --- | --- | --- |
| Description | 2022 | 2021 | Growth | Percentage |
| Revenues | 3.148.755 | 2.628.632 | 520.123 | 19,79% |
| Cost of Sales and Direct Cost | 1.874.213 | 1.600.705 | 273,507 | 17,09% |
| Gross Profit | 1.274.542 | 1.027.927 | 246,616 | 23,99% |
| Operating Cost | 305.315 | 360.919 | -55.604 | -15,41% |
| Operating Profit | 969.226 | 667.007 | 302,219 | 45,31% |
| Others - Nett | -696.810 | -607.464 | -89,346 | -14,70% |
| Equity in Nett Loss of Associates and Joint | -13.254 | -6.731 | -6.523 | -96,91 |
| Profit Before Tax | 259.162 | 52.812 | 206.350 | 390,72% |
| Tax Income (Expense) | -67.194 | -81.877 | 14.683 | 17,93% |
| Current Profit | 191.968 | -29.065 | | |
| Total Other Comprehensive Income - Nett | -4.317 | 10.716 | | |
| Total Comprehensive Income | 187.651 | -18.349 | | |
| Profit for the Year Attributable to Owners of the Parent Entity | -98.844 | 13.137 | | |
| Profit for the Year Attributable to Non Controlling Interest | 290.812 | -42.203 | | |
| Comprehensive Income Attributable to Owners of the Parent Entity | -103.446 | 22.600 | | |
| Total Income for The Year Attributable to Non-Controlling Interests | 291.098 | -40.949 | - | |
| Earnings per Share (in Fill Amount of Rupiah) | (10) | 1 | | |
Revenue Breakdown Charts
Description
2022
% to Revenue
2021
% to Revenue
Growth (%)
Revenue
3.148.755
100%
2.628.632
100.00%
19,79%
Development Income
 Mixed-use & High-rise
1.550.476
49,24%
772.386
29,38%
100,74%
 Landed Residential
630.579
20,03%
688.336
26,19%
-8,39%
 Industrial Estate
246.326
7,82%
508.624
19,35%
-51,57%
Recurring Income
 Offices
226.693
7,20%
238.565
9,07%
-4,92%
 Facilities
393.506
12,50%
330.383
12,57%
19,06%
 Industrial Estate
100.751
3,20%
88.655
3,37%
13,64%
Others
424
0,01%
1.683
0,06%
-74,84%
22 – 23 Jun 2023 – Hungrystock Site Visit Surabaya – Hungrystock Community
28 Sep 2022 – Issuer Quote "Redefining the Future" – Maybank Kim Eng Sekuritas
19 Sep 2022 – Q&A with DILD – Henan Putihrai Securities
19 Sep 2022 – Hungrystock Site Visit Jakarta – Hungrystock Community
20  Augt 2022 – Hungrystock Issuer Meet Up – IDX Investment Community
| | | | |
| --- | --- | --- | --- |
| IDX Symbol: | DILD | Currency: | IDR |
| Last Done: | 212 | Volume: | 319,400 |
| Change: | -4 | % Change: | -1.850 |
| Day's Range: | 208 - 216 | 52 Weeks' Range: | 168 - 466 |
Earnings Per Share (IDR) a
24.256
Price-to-Earnings Ratio a
8.740
Book Value (IDR) b
597.698
Price/Book Value b
0.355
Dividend (IDR) d
-0.000
Dividend Yield (%) d
-
Market Cap (M)
2,197,570
Outstanding Shares c
10,365,900,000
Dividend Declaration
| | | |
| --- | --- | --- |
| Period | Dividend per Share (IDR) | Payment Date |
| Fiscal Year 2022 | - | - |
| Fiscal Year 2021 | - | - |
| Fiscal Year 2020 | - | - |
| Fiscal Year 2019 | - | - |
| Fiscal Year 2018 | 2 | 14 June 2019 |
| Fiscal Year 2017 | - | - |
| Fiscal Year 2016 | 5 | 20 June 2017 |
| Fiscal Year 2015 | 5 | 29 July 2016 |
| Fiscal Year 2014 | 10 | 3 July 2015 |
| Fiscal Year 2013 | 8 | 4 August 2014 |
| Fiscal Year 2012 | 5 | 22 August 2013 |
| Fiscal Year 2011 | 3 | 6 August 2012 |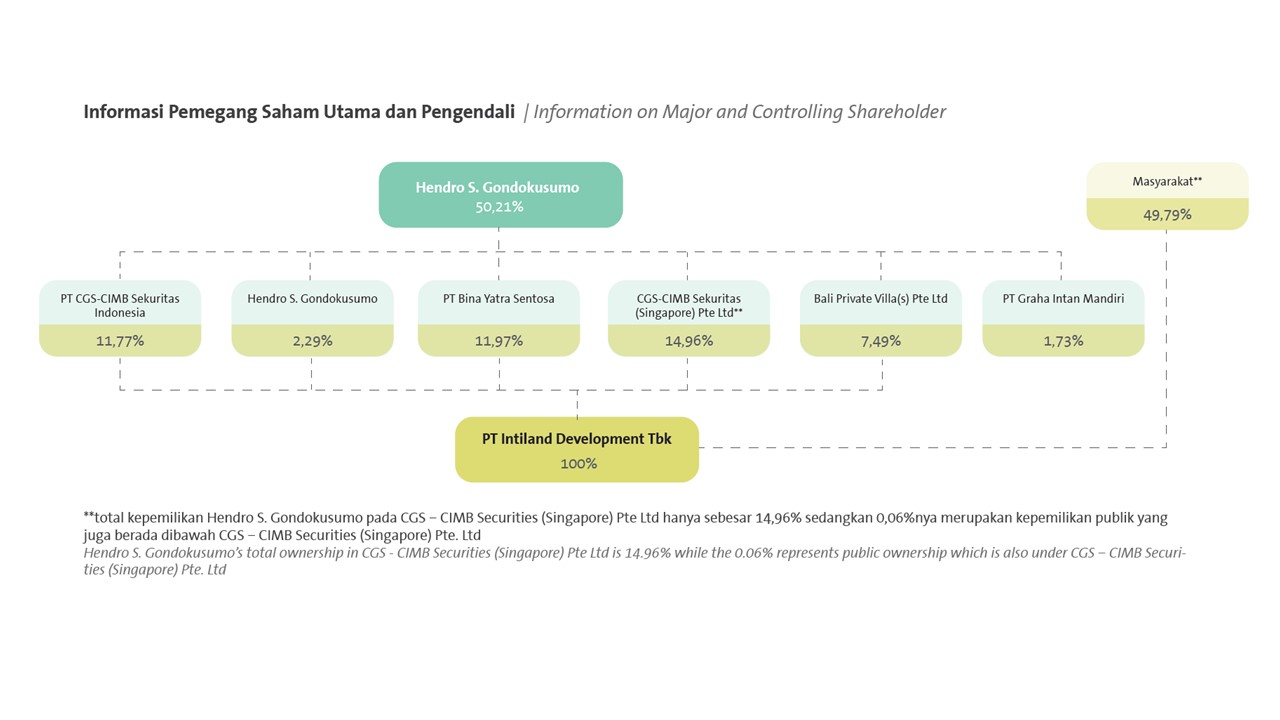 Nathan Tanugraha
Capital & Investment Management
PT Intiland Development Tbk
Intiland Tower, Penthouse Floor
Jl. Jendral Sudirman 32
Jakarta 10220 Indonesia
Phone : (62 21) 570 8088 / 570 1912
Email : investor@intiland.com